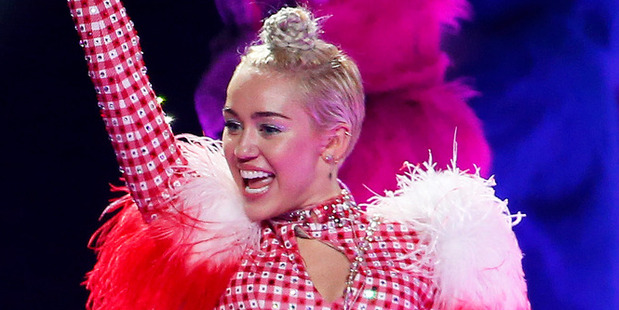 If she lost her shit, you'd forgive her. After all, Miley Cyrus is being chased by fans who are bellowing so loudly she can't hear herself talk, let alone console her new pets — a puppy called Emu and a piglet called Bubba Sue — who are sitting restlessly on her lap.
And in just a few hours she'll perform her Bangerz show in Chicago for thousands of fans, the last US date of a demanding headlining tour that started way back in February and, as TimeOut is announcing today, will land in New Zealand in October.
Sitting in the back of a car amid these chaotic scenes, Cyrus is also trying to answer questions from a journalist who's blathering at her with an equal mix of nerves, excitement and fascination. Any normal person would be tearing their hair out with stress.
But Cyrus is as cool as a twerking cucumber.
"Sorry, just one second … people are yelling and chasing our car right now and I can't hear you … they're all fans and it's cool, I just couldn't hear you …
right, where were we?"
It's a good question. Because while we were getting a snapshot glimpse at the hectic life of a walking headline generator, it's important to remember that Cyrus is only 21 years old. The Nashville singer and daughter of country star Billy Ray Cyrus has spent half her life in the limelight, first as TV tween queen Hannah Montana, and more recently morphing into the heavily sexualised twerking pop princess and chart darling known by just one word: "Miley".
Now, the world follows Miley's every move. Every tweet is a headline, every Instagram a trend, every twerk a cause for outrage, every song inspiration for entire YouTube channels of cover versions and copycats.
But if Cyrus is feeling the weight of expectation, she's not showing it.
"I'm pretty chill and happy with what I'm doing," she says. "I don't feel any pressure to sell things. I tell everybody I wouldn't care if I was just playing clubs. As long as I'm playing music I don't care how many people I play for. As long as one person turns up and is rocking out and singing along, it doesn't really matter to me."
Cyrus has a fair few more people turn up to her shows than that. In October she'll bring her Bangerz tour to New Zealand for the first time (see sidebar for show details), where she'll perform in a venue that can fit about 12,000 fans.